Our Environment: Custodial and Office Pressures
The ongoing challenges of COVID-19
Like the previous two years, the COVID-19 pandemic has continued to present our Office with some unique challenges in meeting our statutory inspection obligations, while at the same time protecting the safety of our staff and volunteers, prison and detention centre staff, and people in custody.
We recognise that people in custody are some of the most vulnerable in society and many have underlying health conditions and comorbidities. Closed facilities, like prisons and detention centres, also have significant difficulties in isolating and containing significant outbreaks. Therefore, it has been a critical policy position for this Office not to contribute to or increase those risks.
Under the provisions of our Act, our statutory right of entry has ensured that we have not been prevented from visiting or inspecting custodial facilities. However, we have on occasion modified our inspection, liaison and review methodologies, and the Independent Visitor schedules as Western Australia experienced its first major peak of the virus within the wider community. We also complied with all custodial facility entry requirements including completing rapid antigen tests prior to entry and we avoided those units where COVID-19 was known to exist.
Our inspection of Broome Regional Prison in May 2022 was the most heavily impacted with the inspection paused midway due to positive COVID cases within the prison and within our inspection team. The Department and, in particular, the Broome Superintendent provided our Office with welcomed assistance over this time and we were able to return to complete the inspection in the following weeks when it was safe to do so.
Similarly, many Independent Visitor visits had to be rescheduled due to positive cases within the facilities they visit, or the visitor themselves either becoming ill or deemed a close contact.
This year with the easing of community restrictions across the state we saw the first cases of COVID-19 transmission within the prisons and the detention centre, and some large-scale outbreaks. Up until that time the Department had done very well to keep facilities largely COVID-free and to vaccinate sizable proportions of the prisoner and detainee populations. Since then, custodial facilities have responded very well to the management of COVID-19 outbreaks. Facilities have been able to set up units where people in custody who were positive or were close contacts were able to isolate and be separated from the rest of the population. This did result in increased complaints from prisoners and young people about the restrictions that were imposed on them while isolating. We acknowledge the impact that restrictions had on people in custody but also understand the importance of strict isolation practices for people in custody due to the elevated levels of risk.
In March 2022 we began tracking the number of positive COVID-19 cases as advised by the Department. At its peak on 4 May 2022, there were 515 cases being simultaneously managed at 10 facilities across Western Australia. By 30 June 2022, numbers had reduced to 172 with peaks and troughs since March roughly mirroring positive case numbers in the community as government restrictions in the state changed and relaxed.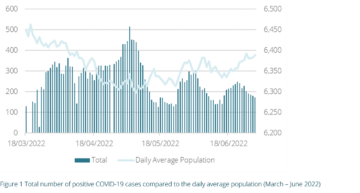 While not mandated, all of our staff have been vaccinated and we continue to maintain high standards of hygiene, social distancing, and we do not attend prisons if we are unwell. When outbreaks do occur, we take a sensible and cautious approach based on the do no harm principle. We remain vigilant and continue to undertake risk assessments prior to visiting custodial facilities. And our continuous inspection model has ensured that we maintain visibility over custodial facilities despite the continuing challenges the pandemic presents.
Prison population has stabilised, but prisons are still overcrowded
The adult prison population has reduced this year following a small reduction (0.6%) in 2020/2021. On 1 July 2021, there were 6,715 prisoners in adult custodial facilities, by 30 June 2022 that figure had dropped to 6,273, a decrease of seven per cent.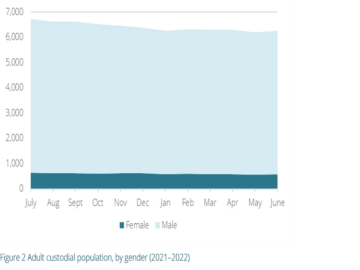 There have been fluctuations during the year but the overall youth population at the Banksia Hill Detention Centre has increased.
On 1 July 2021, there were 96 children and young people in detention compared with 110 at 30 June 2022, an increase of 12.7 per cent. On average, there were 114 young people in custody each day during this financial year, but the daily population fluctuated during the year with the number dropping to just 84 and peaking at 142. The rise in overall numbers this year has not been consistent with the downward trend of previous years. The cohort is still very complex, holding both boys and girls, sentenced and unsentenced, from all regions, ranging in age from 10 to 18 years.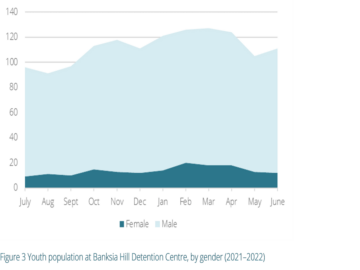 Despite the reduction in the adult prison population, many prisons remain crowded. Western Australian rates of prison utilisation are reported in the Report on Government Services (Productivity Commission, 2022). This is the extent to which design capacity of prisons meets the demand for prisoner accommodation. It compares the number of prisoners against the number the prison was designed to hold, along with any additional accommodation that has been added. Prisons require more beds than prisoners to cater for factors such as: the transfer of prisoners; special‑purpose accommodation (e.g. management or protection units); separate facilities for males and females; accommodating different security levels; and to manage short‑term fluctuations in prisoner numbers. Therefore, percentages close to but not exceeding 100 per cent are desirable. According to the 2022 Report on Government Services, Western Australia is operating at 110 per cent capacity. This is down from the 116 reported in 2021 and 127 per cent reported in 2020. We note that there is a lag in the data, and it may not fully account for the further reduction in numbers experienced this year.
The capacity of the custodial estates has expanded. In mid-2020 the first stage of the Casuarina expansion was completed. This increased the prison's capacity by 512 beds. The second stage expansion project is planned for completion in 2024 and will include an additional 344 beds mostly in specialist units. When complete, Casuarina's capacity will be close to 1,900 prisoners, making it one of the largest prisons in Australia. The expansion supplements additional capacity has been added in other prisons, including a new unit with 160 additional beds in Bunbury Regional Prison.
While the additional beds have provided welcome relief, the problem of crowded prisons still exists. This stems from a policy of double bunking most general-purpose cells, which were originally designed for one person.
The Australasian standard guideline for a single plumbed cell is 8.75 square metres or 12.75 square metres for a double cell. But in most prisons, particularly the older ones, we have seen many cells that have been double-bunked but are closer to the recommended size of a single cell. For example, during our last inspection of Greenough Regional Prison we found that:
Eighteen cells in Unit 1 measured 6.4 square metres but were double-bunked.
Eight cells in Unit 2, and six cells in Unit 3, measured 7.3 square metres and were also double-bunked.
But crowded prisons also have implications for supporting infrastructure and services. During the year we have once again noted in our inspection reports the impact of expanding prisoner numbers on prison infrastructure and the ability to provide a constructive and purposeful daily prison regime.
First nations prisoners are still overrepresented and continue to suffer disadvantage 
While First Nations peoples only make up approximately four per cent of the Western Australian population, they accounted for just over 40 per cent of the adult prison population and around 75 per cent of young people in detention.
Not only are First Nations peoples overrepresented in prison, we often find that they experience ongoing disadvantage through lack of employment opportunities. It is accepted that engaging in meaningful activities in prison has the potential to provide prisoners with additional skills, improve their sense of self-worth and wellbeing, and contribute to their rehabilitation by potentially increasing their job readiness on release.
In our Greenough inspection we found that First Nations men were under-employed compared to non-Aboriginal prisoners. Twenty-eight per cent of First Nations prisoners were either not working or underemployed in unit work compared to 14 per cent of non-Aboriginal prisoners.
In our Hakea inspection we found that First Nations prisoners were underrepresented in most workplaces. The great majority were underemployed (41%) or not working (49%) during the week of our inspection. And in our Albany inspection we found that First Nations men make up 38 per cent of the prison population, but only 14 per cent were employed in industries and services outside their units (e.g. in areas like the canteen, reception and trusted cleaning jobs) compared to 47 per cent of non-Aboriginal prisoners.
Beyond the specific references in these three inspection reports, this is a consistent trend that we see across most of the custodial estate. And while there is likely to be a range of reasons why more First Nations peoples are not employed in prisons, they remain one of the most disadvantaged groups in the community. The Department can do more to ensure that appropriate strategies are put in place to open pathways for more First Nations prisoners to gain meaningful prison employment.
Mental health services are still in crisis
Prisoners with mental illness, especially those in crisis, continue to struggle to access adequate care. The Department places prisoners with mental health issues into four categories:
P1 – serious psychiatric condition requiring intensive and/or immediate care
P2 – significant ongoing psychiatric condition requiring psychiatric treatment
P3 – stable psychiatric condition requiring appointment or continuing treatment
PA – suspected psychiatric condition requiring assessment
At any one time over the last financial year there were approximately 660 prisoners in custody, across the four categories. While this is a slight decrease from the previous year (approximately 700), it mirrors the overall decrease in the daily average prisoner population.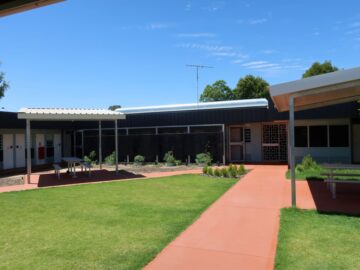 Photo 5 The Bindi Bindi Mental Health Unit at Bandyup Women's Prison 
The Department has a responsibility to manage these prisoners and ensure their needs are being met. And while most prisons do their best to manage these prisoners on a day to day basis, prison officers do not have adequate mental health training, the availability of professional resources is limited, and designated infrastructure if often inadequate.  This is compounded by the lack of beds available at Western Australia's only secure forensic mental health facility, the Frankland Centre, which often means that prisoner patients who are extremely unwell (e.g. category P1) cannot access acute mental health services.
On a positive note, in July 2021 the Bindi Bindi Unit at Bandyup Women's Prison opened. This sub-acute step-up/step-down mental health unit is showing promise. It is designed to manage prisoners based on a therapeutic model of care with support resources based in the unit. The addition of an occupational therapist has assisted the women, especially in engaging with the National Disability Insurance Scheme.
We understand that a similar 34-bed mental health unit is planned to open for men in Casuarina Prison in 2024. This will be a much-needed addition and one we have advocated for over several years. These are positive steps, but they are not meant to, nor should they, replace the need for hospitalisation of prisoners who are acutely unwell. 
Mental illness is a significant risk factor for deaths in custody. As part of our current directed review, we examined Coronial inquest recommendations to the Department between 2017 and 2021. Of the 35 recommendations made by Coroners 10 were directly related to mental health. Many of the remaining recommendations were also indirectly related to mental health. Six infrastructure recommendations, four staff training recommendations and three prisoner management recommendations were linked to improving prisoners' mental health and welfare. 
More broadly, during the year we had a briefing on the work of the taskforce examining the reconfiguration of mental health facilities in Western Australia. The plans and actions spoken of were encouraging but development of facilities to alleviate the prison situation are years away. 
Further deterioration in the backlog of individual assessments
In recent years, the Department has invested considerable additional resources in a project, the IMP Review Project, to reduce the backlog of outstanding treatment assessments and individual management plans (IMPs). This project had been successful in reducing the backlog. In March 2021 outstanding treatment assessments and IMPs were at their lowest (316 and 408 respectively) compared to their highest in July 2019 when there was 710 outstanding treatment assessments and 1,079 outstanding IMPs.
Over the last financial year, the backlog for both has substantially increased again and, surprisingly, the Department advised us that it had closed the IMP Review Project on 30 June 2022. In its final June 2022 update to our office, the Department advised that some of the outstanding IMPs were between nine and 12 months overdue, with the longest almost 18 months for a prisoner at Bunbury Regional Prison and 14 months for a prisoner at Eastern Goldfields Regional Prison.
If all of the 738 prisoners awaiting an IMP were placed together in one facility, they would comprise the fourth largest prison in Western Australia, behind Acacia, Hakea and Casuarina.
This backlog has been a concern for this Office since 2018 and will continue as such given the cessation of the IMP Review Project. But this issue is not just about figures or data. These numbers represent individual men and women in prison who are unable to get a timely assessment of their rehabilitative needs as the first step in creating an opportunity to successfully turn their lives around and re-join society.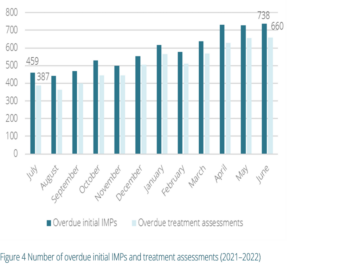 Assessments are a pivotal part of the Department's mandate to reduce reoffending. In order to address their offending behaviour prisoners must first have their individual needs assessed and identified, and an IMP prepared so they can be allocated to suitable criminogenic programs and additional supports. Once assessed and an IMP prepared, prisoners must then be able to access programs. We have reported on many occasions the difficulties prisoners have in accessing appropriate programs and the consequential risk they face of being denied parole opportunities. For some this means remaining in prison longer than necessary, at an average cost of $371 per prisoner per day or more than $135,000 per year.
In the course of our work this year the Department has advised that COVID-19 has significantly impacted the IMP process and backlog. Both staff and prisoners have been ill or quarantined. Although we acknowledge these factors, we also note that concerns about the backlog preceded the pandemic by several years. In the absence of a dedicated project, we are unsure of how the Department can make significant inroads into this backlog in the coming year.
The Department needs a settled long-term strategic plan for the management of the custodial estate
When we conduct inspections of custodial facilities, we look for evidence of a strategic plan which sets the vision for the facility and outlines the strategic goals and operational plans for how to achieve them. This forms part of the governance arrangements contained in our Revised Code of Inspection Standards for Adult Custodial Services. Good governance is essential for the safe and secure management of prisons.
What we generally find is a mixture of short plans with limited detail right through to more comprehensive plans. These documents are often quite generic, and many do not appear to take into account the specific requirements of the individual facility.  
However, it is difficult to criticise prisons for not having more substantial strategic plans as they are often working without a settled strategic direction for each prison from the Department.
The Department does have a Corrective Services Strategic Plan 2019-2022 which provided guidance to the custodial estate. But there has been an ongoing period of change and reform in the Department with many major projects commenced but not yet finalised. Understandably, the focus appears to be on the daily management of issues in the custodial estate, in particular the challenges presented by the management of COVID-19, the crisis in the youth estate, and ongoing budget pressures.
One such project was the Prison Network Design Project which we understood was going to identify an integrated model with clear roles and functions for each of the prisons across the custodial estate. By 2020, it appeared that this project had been merged with the Prison Services Evaluation Project. During the course of our work, we have also been told about the Department's work on a long-term custodial infrastructure plan and a long-term strategic information technology plan and many other reforms and reviews.
But we would argue that the time is right for the Department to establish a settled long-term vision and strategic plan. Such a plan would set the direction and operating philosophy for corrections generally and for each facility specifically. This would allow each prison and the detention centre to set a clear direction focussing on the broad expectations identified for each facility.
Progress on OPCAT implementation remains slow
In July 2019 we were nominated as one of two National Preventative Mechanism (NPM) bodies for Western Australia as part of the preparation for implementation of the United Nations Optional Protocol to the Convention Against Torture and Other Cruel, Inhuman or Degrading Treatment or Punishment (OPCAT).
The original terms of the agreement to ratify OPCAT required that the protocol commence operation in Australia by 20 January 2022. The Australian Government secured an extension from the United Nations for a revised implementation date of 20 January 2023.
By the end of June 2022, only a few Australian States had nominated NPM bodies and national consensus and agreement between the States and Commonwealth had not yet been reached. 
Notwithstanding the delays, we have continued to hold discussions with the Commonwealth Ombudsman, as the nominated National Coordinating body, and Western Australia's other NPM body, the Western Australian Ombudsman. Discussions have also continued with both the Commonwealth Attorney General's Department and the Western Australian Department of Justice as the lead agencies responsible for negotiations and preparing for implementation. 
As we have stated in previous Annual Reports, without national agreement around implementation, it has not been possible for us to commit significant resources to developing important processes and structures around how we will undertake this new work. This includes: contributing to the development of legislation to expand our jurisdiction to cover inspection of police lockups; the development of appropriate inspection standards and protocols; preparing reporting frameworks and templates; and the identification of resource needs. Some preliminary work has been undertaken by us and the Ombudsman's Office to identify appropriate consultative networks with civil society groups that could inform our OPCAT work. 
We are fortunate to have a well-developed model for undertaking inspections of prisons, detention centres, court custody centres, and prescribed lockups. But the new OPCAT jurisdiction involving these services will most likely require some changes to our existing methodology, reporting, and networking.
The absence of a national agreement around the implementation of OPCAT has meant that once again we have not been able to make much progress this year.
Monitoring the conditions of regional and remote prisoner transports 
Between 2018 and 2021, there were just over 120,000 external prisoner movements with a destination or origin at a regional or remote prison in Western Australia. Many of these movements were for short trips to facilitate court appearances, health appointments or external work activities. However, long-distance journeys to transfer prisoners between facilities were also undertaken. Generally, this included coach journeys to Albany and Kalgoorlie, and plane trips to the facilities in the north of Western Australia. But long-distance road journeys still occurred for some unscheduled transfers or where a prisoner was assessed as being high-risk.
Over the years we have undertaken a suite of work on custodial transport services in Western Australia. Our detailed inspections and reviews of custodial transport services since 2001 provide a thorough history and timeline of key issues, events and changes to policy and practice in this space. We have also completed a range of reviews on various other topics such as prisoners' access to mental health treatment and their ability to attend funerals. These topics have some intersectionality with prisoner transportation.
However, it has been some time since we have undertaken a review specifically examining prisoner transport. During the year through our inspection and liaison activities, we have identified a number of incidents that have occurred during regional transportation of prisoners which have caused us concern. This prompted us to commence a review into regional and remote transports and whether these are conducted in a safe, secure and humane manner. We will report on this work in the next financial year.
Banksia Hill, a potted history
Banksia Hill opened in 1997 with a capacity for 120 sentenced young people in Western Australia. Unsentenced young people who were newly arrested or on remand were placed at the State's other youth detention facility, Rangeview Remand Centre (Rangeview). Banksia Hill's campus style was regarded as a national benchmark, influenced the design of other youth detention facilities in Australia, and received an award for its outstanding design (OICS, 2013).
The first inspection of Banksia Hill was conducted in 2005 after the Inspector of Custodial Services Act (2003) was enacted extending our jurisdiction into youth detention centres. The centre was considered 'one of the best-performing institutions' in the state (OICS, 2006, p. v) with a strong pro-social environment and good staff-young people interactions. In June 2008 the second inspection occurred: the findings were less positive, but a pro-social environment still existed (OICS, 2008). Following this, in January 2010 the State Government announced it would close Rangeview in late 2012 and all young people would be placed at Banksia Hill.
The redevelopment of the centre commenced to accommodate the increased capacity. Building within the centre's secure perimeter created significant risk and an increase in critical incidents ensued. Despite this, and efforts from the then Inspector warning of the need to delay the amalgamation, the transfer of young people from Rangeview commenced in late September 2012 with the final transfers in early October 2012.
And, while there have been some small periods of stability since that time, this was, in essence, the beginning of more than a decade of challenges and crises at the centre. Banksia Hill as a 'one-stop-shop' has, with time, proven to be a failure.
Since 2005, this Office has produced 11 reports on the facility, nine of which occurred in just over 10 years. It is the most heavily scrutinised custodial facility in the state. And so it should be given the inherent risks with accommodating young people in detention but also because of its history of significant instability. It is disappointing that many of our reports have covered the same general themes and made similar recommendations regarding an operational philosophy, behaviour management practices and out-of-cell hours, and workplace culture and trauma.
Operational philosophy
Since 2010 Banksia Hill has tried to implement various operational philosophies to guide staff in the management of the young people placed there. The policy titled Making a Positive Difference to the Lives of Young People in Youth Custodial Services was endorsed in November 2010 and a revised version was subsequently endorsed just six months later. Although we found that it was not a fully polished document, it did encompass all key areas and contained some important ideas about the management of young people. However, this was soon cast aside and by mid-2012 another philosophy of Safety, Purpose and Respect had become the focus.
Then, after the 2013 riot, the primary focus for centre management in 2013 and 2014 was getting 'back to basics' (OICS, 2017). In 2015 the Department began to develop new philosophy for the 'transformation' of Banksia Hill which drew on the Sanctuary Model, the Missouri Model and the We Al-Li Model. The intent and core principles of trauma informed care were sound, but the implementation of the transformation was poor. And the events of May 4 and 5 2017 meant the transformation project was officially abandoned.
We have recommended Banksia Hill continue to pursue a trauma-informed model of care since 2017 (OICS, 2021; OICS, 2018; OICS, 2017), and more broadly, since 2013 that it implements a clear and consistent operational philosophy (OICS, 2015; OICS, 2013). More than simply being theoretical, the operational philosophy must underpin everything that Banksia Hill seeks to deliver. Staff must be fully trained and understanding of the source and drivers of trauma in young people and how that impacts individual behaviour.
Behaviour management practices and out of cell hours
In the same vein, we have conducted four reviews, audits and inspections with an in depth focus on behaviour management practices and their subsequent effect on out of cell hours at Banksia Hill (OICS, 2022; OICS, 2018; OICS, 2017; OICS, 2012). As far back as 2011 we found that young people were being locked down in their cells or units far more frequently than adults in prisons (OICS, 2012). The use of regression (as it was known at the time) was officially badged as a targeted and individualised regime for improving behaviour. And while it legally separate from the punishment of young people for detention centre offences under the Young Offenders Act (1994) (the YOA) or Young Offenders Regulations (1995) (the Regulations), it was in many respects indistinguishable from formal punishment and generally of a longer duration (OICS, 2015).
When Banksia Hill moved from regression to Personal Support Plans in 2017, we reviewed these behaviour management practices again. We found that isolation in cell was overused and that some young people were being denied their legally required time out of cell (OICS, 2017). Similarly, in 2018 when Amnesty International raised concerns about young people at Banksia Hill, we found that their time in cell had not breached legislation because they were not being held in 'confinement' under the YOA or Regulations. However, their time in cell was again considered indistinguishable from formal punishment (OICS, 2018). Most recently, our inspection in November 2021 found that the time some young people were spending in cell was akin to solitary confinement (OICS, 2022).
In these reports we also found:
that formal detention centre charges were rarely used
there was poor documentation and record keeping practices
proforma documentation that was used lacked specificity and measurable goals which was inconsistent with the argument that behaviour management was indivdualised 
that staffing was inadequate to ensure young people's entitlements were being met.
Workforce trauma and centre target hardening
As Banksia Hill has moved through the last decade pushing through one crisis to the next, we have been unsurprised to find a workforce that has been worn out and traumatised. Many staff have experienced or witnessed assaults and destructive behaviour, or self-harming and attempted suicides by young people (OICS, 2022). In working with traumatised detainees, staff are also exposed to vicarious trauma (OICS, 2021). Low morale and high stress have been openly acknowledged (OICS, 2018; OICS, 2013) and staff resiliency should be commended.
Our reports have highlighted how high attrition rates and workers' compensation claims have exacerbated the lockdown of young people which in turn has shown to increase the 'temperature' of the facility (OICS, 2013). This becomes a vicious spiral affecting staff morale further and resulting in more frequent and severe critical incidents, followed by periods of lockdown (OICS, 2022).
In an attempt to quell some of the critical incidents, particularly post-2013, significant target hardening of Banksia Hill has occurred. Grilles have been added to cell and office windows, anti-climb screens have been installed, and demarcation fences topped with cowling prevent free movement across the facility. It is a very different facility to the one which won a Royal Australian Institute of Architects Award of Merit (Public and Institutions) in 1998. Such retrofits have been largely welcomed by staff. But the measures have not prevented young people finding new, often more violent or destructive ways to circumvent their intended purpose. This further contributes to spiralling staff morale and critical incidents.
Further deterioration 
In November 2021 we were so concerned about conditions at banksia Hill that we conducted an inspection of the Intensive Support Unit (ISU). A Show Cause Notice was issued to the Department and, following consideration of the response, the Notice was then referred to the Minister for Corrective Services. 
We found that young people in the ISU had been on several occasions denied their minimum time out of cell. Following publication of this report in April 2022 the situation at Banksia Hill has deteriorated further, with increased number of critical incidents, self-harm and suicide attempts, staff assaults and significant infrastructure damage. 
The above commentary covers the period of the Annual Report (i.e. up to 30 June 2022), but events since that time have continued to deteriorate and gain significant public attention.  
Page last updated: 29 Nov 2022