Our Environment: Custodial and Office Pressures
COVID-19 continues to present challenges
The COVID-19 pandemic continues to present us with some unique challenges in being able to meet our statutory inspection obligations, while at the same time protecting the safety of our staff, volunteers, and prison and detention centre staff, prisoners and detainees. As official visitors with statutory right of entry, we were never prevented from visiting prisons and other places of custody. However, we had to ensure that we addressed the potential risk that staff or volunteers could carry the virus into the custodial environment. We knew that prisoners and detainees represent some of the most vulnerable people in society and the impact of COVID-19 entering a closed custodial facility could have been catastrophic.
By July 2020, we had mostly returned to operating as we did prior to the COVID-19 outbreak. Since then, restrictions have continued to ease and travel around regional Western Australia has become easier to facilitate. However, there have been a few incidences of community transmission of COVID-19 in the Perth and Peel regions which have resulted in short term lockdowns. We managed these occurrences in the same manner that we addressed the initial arrival of COVID-19. Again, we were not prevented from visiting prisons during these periods but, through the exercise of caution, we suspended liaison visits during th lockdowns for both our staff and independent visitors. Fortunately, we had no inspections scheduled during the periods of lockdown. Visits scheduled for our independent visitors to custodial facilities in regional Western Australia continued subject to them not having been in the Perth and Peel regions in the 14 days prior to the visit. 
While there have been a few outbreaks of COVID-19 in Western Australia, and those that have occurred have been well managed, we continue to be alert. While not mandated, most of our staff have elected to get vaccinated. We continue to maintain high standards of hygiene, social distancing, and we do not attend prisons if we are unwell. When outbreaks do occur, we take a sensible and cautious approach based on the do no harm principle. We remain vigilant, particularly in relation to the Delta variant which has been proven to be highly contagious, and continue to undertake risk assessments prior to visits to custodial facilities. 
Our continuous inspection model has allowed us to adapt to a changing environment over the past two years without significant loss of visibility over custodial facilities. 
Prison population has stabilised, but prisons are still overcrowded 
The prison population has has been stable this year following a small (2.5%) increase in 2019/2020. On 30 June 2020, there were 6,771 prisoners in adult custodial facilities, by 30 June 2021 that figure had dropped to 6,726, a decrease of 0.6 per cent.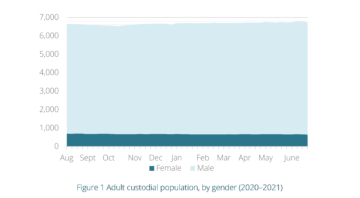 Although there has been some stability in the overall youth population at the Banksia Hill Detention Centre, there have been fluctuations during the year. On 30 June 2020, there were 106 children and young people in detention compared with 99 at 30 June 2021, a reduction of seven per cent. On average, there were 102 young people in custody each day during during this financial year, but there have been occasions during the year when the number dropped to just below 80 before going back to the average. This continues the downward trend from previous years. The cohort is still very complex, holding both boys and girls, sentenced and unsentenced, from all regions, ranging in age from 10 to 18 years.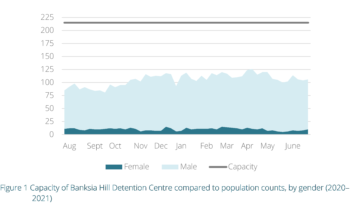 Despite the stabilisation of the adult prison population, many prisons remain overcrowded. Western Australian rates of prison utilisation are reported in the Report on Government Services (Productivity Commission, 2021). This is the extent to which design capacity of prisons meets the demand for prisoner accommodation. It compares the number of prisoners against the number the prison was designed to hold, along with any additional accommodation that has been added. Prisons require more beds than prisoners to cater for factors such as: the transfer of prisoners; special‑purpose accommodation (e.g. management or protection units); separate facilities for males and females; accommodating different security levels; and to manage short‑term fluctuations in prisoner numbers. Therefore, percentages close to but not exceeding 100 per cent are desirable. According to the 2021 Report on Government Services, Western Australia is operating at 116 per cent capacity. This is down from the 127 per cent reported in 2020 and we note that there is a lag in the data, and it may not fully account for the expansion projects that have been undertaken at Bunbury Regional Prison and Casuarina Prison in recent years.
In mid-2020 the first stage of the Casuarina expansion was completed. This has increased the prison's capacity by 512 beds. The second stage expansion project is planned for completion in 2024 and will include an additional 344 beds mostly in specialist units. When complete, Casuarina's capacity will be close to 1,900 prisoners, making it one of the largest prisons in Australia.
While the additional beds have provided welcome relief, the problem of crowded prisons still exists. This stems from a policy of double bunking most general-purpose cells, originally designed for one person, which has become the norm in most prisons. This was a problem we highlighted this year in our inspection report for Bandyup Women's Prison.
But crowded prisons are not just about beds. There are also implications for supporting infrastructure and services. We noted in our inspection of Bunbury Regional Prison this year that following its expansion that they had submitted budget bids for a new industrial workshop and had other initiatives and plans to increase employment by establishing new industries, but neither of these options had yet been approved or funded to go ahead. Bunbury has always been busy and productive, but the expansion has placed pressure on the prison and impacted its capacity to provide a meaningful and constructive daily regime for all the prisoners sent there. This is an issue we have raised in many inspection reports over the years and it seems likely to continue.
Aging infrastructure is often not fit for purpose
In addition to population pressures, prison infrastructure in Western Australia is aging, and in some cases no longer fit for purpose. This issue has been raised in several of our previous inspection reports and was identified again this year during our prison inspections.
In previous inspections of Broome Regional Prison, we have commented that its infrastructure is no longer fit for purpose. There is some relief on the horizon, following the announcement in May 2019 of funding to plan a new prison. But the process of identifying and selecting a suitable site for the new prison is ongoing. Given the circumstances, it is unlikely any large-scale infrastructure changes for the existing prison will be approved. This leaves the Department with the difficult challenge of maintaining a humane and liveable standard for the men and women sent to the old prison until the new prison is built.
The inspection of Bandyup Women's Prison this year again found problems relating to the aging infrastructure. Some facilities at the prison are too small for the population size, for example, the visits and reception centres. Some temporary facilities were in poor condition, such as the dongas comprising the official visits facility and one of the administration offices. Some facilities were no longer fit for purpose, such as the medical centre; and the kitchen needed significant refurbishment, retooling and extension.
The women's custodial estate did experience overdue expansion through the establishment of the 256 bed Melaleuca Remand and Reintegration Facility in 2016, and the 77 bed Wandoo Rehabilitation Centre in 2018. The focus of investment since then has largely been on the men's estate, including the Casuarina and Bunbury expansions. It should be acknowledged that the Department has made several submissions to Government for infrastructure improvements at Bandyup and elsewhere, which have not been supported.
Crisis care facilities and safe cells are inadequate
We are particularly concerned at the suitability of infrastructure that is used for prisoners who are at risk as a result of crisis or mental illness. Many people who are in prison are in crisis or struggle with mental illness, including depression, schizophrenia, psychosis, and bipolar disorder. Such prisoners need to be housed in a safe place that has a therapeutic, not detrimental, impact on their mental wellbeing. In most prisons, people who were deemed to be at risk are kept in the prison's Crisis Care Unit (if one exists), with the high-risk cases kept in safe cells.
Taking away the tools of self-harm is the default position in prisons. On a practical level this is entirely understandable, but in a prison environment there are problems with this approach.
Often there appeared to be little or no therapeutic benefit in keeping people in Crisis Care Units and safe cells, other than to prevent them from harming themselves. The built environment is generally harsh and distressing. People who are placed in these units are often isolated from the rest of the population and many of the supports and sense of community that they may have experienced in their usual accommodation units. Those placed in safe cells have their possessions taken away from them, their clothes are removed and replaced with a rip proof gown which provides little privacy, they are under regular monitoring, and often isolated for long periods alone in the cell.
Prisoners in safe cells and Crisis Care Units often have to use an intercom system to contact officers. The use of the intercom system raises challenges for prisoners who may be very unwell. Those who are psychotic may experience paranoia or auditory hallucinations about technology or use of the intercom.
Those with a cognitive impairment may struggle to recall the function of the intercom or be too disorganised to make use of it. The sense of not being able to call out for help may be frightening and may heighten the loneliness that isolation offers.
We see infrastructure inadequacies of crisis care units and safe cells in almost all our prison inspections. Best practice in how to manage and treat people with mental health issues has progressed and changed significantly in the years since much of the prison health infrastructure was designed and built. While it may be cost prohibitive to entirely replace the units, there are possibilities to address how they are presented and used, particularly when at risk prisoners are housed there for prolonged periods.
In saying all of this we are not critical of the staff, both clinical and custodial, who work in these areas as the vast majority do their best with the limited infrastructure and resources available to them. Most noteworthy is that the bulk of the supervision is done by custodial officers with limited, if any, relevant training for the task they are given.
Limited improvement in reducing the backlog of individual assessments 
In 2020-2021 the recidivism rate in Western Australia was 35%. This means that more than one in three prisoners had returned to prison within two years of their release to serve a period of sentenced imprisonment.
A critical factor in addressing the recidivism rate is for the Department to provide treatment programs and other supports to prisoners to address their offending behaviours. First prisoners must have their individual needs assessed and identified. Once all these assessments are completed, an individual management plan is prepared for each prisoner so they can be allocated to suitable programs and supports.
We have been concerned about a backlog in these assessments and individual management plans for several years and have been closely tracking departmental data since January 2019. The overall backlog has decreased considerably since January 2019. However, there has not been any improvement over the last financial year. At the time of our last update from the Department in June 2021, the backlog had increased by one per cent compared to the previous year. More is needed if the goal is to eliminate the outstanding backlog.

While the Department has invested extra resources in order to address this backlog, departmental advice indicates that progress continues to be impacted by staff absences due to unfilled planned and unplanned vacancies, training, and staff redeployments. For example, we were advised by the Department that in one month (June 2021) there were 1003.45 hours of lost production for assessments and individual management plans (DOJ, 2021).
As noted in our last Annual Report, our overall concern is that prisoners are not accessing the programs that they need to address their offending behaviours (OICS, 2020). At the time of writing, there are still more than 300 prisoners whose treatment needs have yet to be assessed. From an individual prisoner perspective, the inability to complete programs can affect their opportunities for parole and likelihood of a successful reintegration back into the community. At a system level, it can contribute to overcrowding, frustration and/or discontent within prisons. It is also failing to address two key purposes the Department has set for itself, namely: reducing recidivism and enhancing community safety.
Following a period of stability, Banksia Hill is unsettled once again
The number of young people in custody at Banksia Hill remains consistently low, at roughly 50 per cent of its total capacity. Despite the low numbers, Banksia Hill remains a very complex centre to manage. Banksia Hill houses young people from all over Western Australia, male and female, including those newly arrested, placed on remand, or sentenced to detention. And until a final decision is made about whether the State raises the age of criminal responsibility, Banksia Hill will continue to look after children as young as 10 and as old as 18 years. Almost 20 per cent (257) of the 1,302 receptions to the centre last financial year were for children aged 10–14 years.
We inspected Banksia Hill Detention Centre in September 2020. At that time, and for the three years prior, the centre was experiencing its most settled period in several years. Our inspection found many factors which we hoped might allow Banksia Hill to progress and build on this stability. However, since the start of 2021, there has been an increasing number of staff absences for various reasons; there have been more critical incidents involving a small number of young people; and activities, such as education, have been restricted or modified.
These developments have been a cause for some concern. In June 2021 we conducted a series of structured liaison visits to assess the extent of the issues and to try to understand what the contributing causes may be. We found that the Department and Banksia Hill have been trying to address these issues, including increasing security and planned infrastructure upgrades. But like the time of our inspection in 2020, these visits reinforced our concern about the absence of a cohesive operational philosophy centred around trauma informed practice. This would ensure Banksia Hill has a consistent, unified approach from management and staff as well as creating a sense of certainty for the young people there. We acknowledge that the issues facing Banksia Hill are more complex than simply not having a coherent operational philosophy. But we believe this is one of the key first steps in reform. It could contribute to improved staff engagement, greater clarity of services being offered, clear expectations of young people, and a path forward for the centre.
Unemployment and underemployments remain high
Experience shows that the most effective custodial facilities are those that offer a busy and constructive day. Putting prisoners to work in meaningful roles and providing training and new skills has repeatedly shown that it can change lives and reduce recidivism rates.
This year we continued to identify a lack of meaningful employment in some prisons, with many prisoners either unemployed or under-employed. Following several years of significant growth, the prisoner population has stabilised over the last two years. But employment opportunities have not kept pace with needs of the current prisoner population.
Prison industries in the main have not been expanded beyond essential areas such as kitchens, laundries, and bakeries. This often results in an increase in the number of unemployed or under-employed workers in prisons. The under-employed are often unit workers who have unskilled jobs requiring only an hour or two of work each day. Such roles cannot be considered meaningful employment. This combined with prisoners who are unemployed means that there are many prisoners who are not actively engaged in constructive activities.
There are a number of exceptions to this, notably in smaller or specialist prisons, prison farms and workcamps. Although many of these have been impacted by COVID-19 restrictions limiting employment activities, particularly those involving teams working in the community or prisoners undertaking approved external activities.
The lack of meaningful activity or structured employment is further compounded when staff absences occur across the custodial estate. Often Vocational and Support Officers (VSOs) who run industries and workshops are redeployed into other roles to cover staff absences from rostered work. When they are redeployed their workshop is closed for the day and the workers stay in the units. Throughout the year we found this was happening on a regular basis in most prisons.
In August 2020, hopes were raised when the working prisons initiative was announced. This arose out of the Government's market-led proposal initiative to encourage the private sector to look at ways of stimulating the economy.
The Department of Justice released a Prison Industry and Prisoner Employment Program Problem and Opportunity Statement with a closing date in September 2020. This specifically identified several areas that may present opportunities for the private sector to partner with Western Australia's prisons, work camps and prison farms. This was a worthwhile initiative that has the potential to give prison industries a boost and to increase the participation rate of prisoners in meaningful activities. Despite the early promise, we have not seen much by way of concrete progress being announced.
Mental health services for prisoners in crisis are inadequate
Mental health services for prisoners with acute needs or at high risk of self-harm, are generally inadequate, and often in crisis.
The Department categorises prisoners with mental health issues into four categories:
P1 – serious psychiatric condition requiring intensive and/or immediate care
P2 – significant ongoing psychiatric condition requiring psychiatric treatment
P3 – stable psychiatric condition requiring appointment and continuing treatment.
PA – suspected psychiatric condition requiring treatment.
There are approximately 700 prisoners across the four categories at any one time in the prison system. If they were all put into one facility it would be the fourth largest prison in Western Australia. This number makes the Department of Justice responsible for the care and wellbeing of one of the largest cohorts of mental health patients in Western Australia.
In our inspection visits throughout the year we have seen first-hand the operation of prison mental health services, including crisis care, safe cells, and the Prisoner Risk Assessment Group (PRAG) processes. We have also seen and heard about the unrelenting pressure on custodial, primary health, mental health, and welfare staff trying to keep prisoners safe.
We have also seen prisoners, several of whom were described by our consultant experts as being "floridly psychotic", housed in safe cells that are not at all therapeutic. Our experts told us that this is a situation that would never be allowed in the community where such people would either be hospitalised or put on involuntary treatment orders.
Few prisoners get to the state's only forensic mental health facility, the Frankland Centre, due to a lack of beds. Of the 30 beds in the Frankland Centre, only around 10 are available for prisoners at any one time, which is simply not enough given the level of demand. Many prisoners who are referred to the Frankland Centre under the Mental Health Act 2014 simply do not get a bed there and the referral forms lapse. Despite their best efforts, prison staff often have little capacity or resources for anything beyond acute crisis counselling and keeping prisoners safe from immediate harm.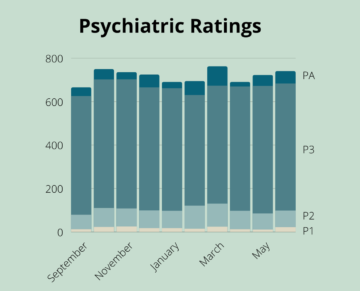 Most prison staff do an amazing job trying to keep prisoners safe and it must take an enormous personal toll on them each day. Custodial staff are not adequately trained, clinical staff are under pressure, and we are told that the clinical treatment options by way of enforced medication to stabilise patients are not the same as in the hospital environment.
Some relief has been provided by the Department of Justice to ease the management of prisoners with significant mental health issues. In Bandyup Women's Prison, Unit 1 A Wing has been repurposed as the 29-bed Bindi Bindi Mental Health Unit. Unit 1 is part of the original prison built in the 1970s and the cells are small and lack facilities. But they have done a reasonable job with the refurbishment. We understand that a therapeutic based model of care will be applied to prisoners in this unit. Further, a 34-bed mental health unit is scheduled to open for men in Casuarina prison in 2024. These are positive steps, but they are not meant to, nor should they, replace the need for hospitalisation of prisoners who are acutely unwell.
We have serious ongoing concerns about the state of acute mental health care for prisoners. We have continued this year to engage with key stakeholders with a view to influencing some form of immediate temporary solution until a longer-term system level solution can be identified, funded, and constructed. We will continue to pursue these discussions with heads of health, mental health and justice agencies to identify issues and maintain a focus on strategies to address the problem.
Following the success of the rehabilitation program for women at Wandoo, the Mallee Rehabilitation Unit for men has recently opened
We conducted our first inspection of the Wandoo Rehabilitation Prison for women in November 2019 and our report was tabled in July 2020. Wandoo became a dedicated drug and alcohol rehabilitation prison for women in May 2018 and we found that the therapeutic community model had been successfully adapted into a prison environment. The program takes a minimum of 28 weeks and residents must progress through and pass all stages to successfully complete it. To date, in excess of 270 women have graduated and the return to prison rate is only around one per cent. This is a strong indicator that the program is proving to be a success and these opportunities must be maximised.
The Mallee Rehabilitation Unit in Casuarina Prison is an alcohol and drug rehabilitation facility for men that was officially opened on 1 October 2020. The program for men is slightly different to that for women, with a different service provider offering a therapeutic program located within a maximum-security prison. The first group of 26 men graduated on 30 June 2021. A full evaluation of the outcomes that the unit achieves will be only be possible over time, but we hope that outcomes like those seen at Wandoo can be achieved at Mallee.
Access to appropriate technology is an ongoing challenge
Access to technology for staff and prisoners is a key emerging theme evident in prisons. This year during our inspections, we continue to find many areas that would benefit from improvements in technology.
Many administrative processes in prisons are manual and labour intensive, such as human resource transactions and staff rostering. These transactional processes are essential for the effective operations of the prison, but they are often inefficient and consume time and resources that could be better used elsewhere.
Following the initial onset of the COVID-19 pandemic, the Department stopped social visits to prisons and rolled out or expanded e-visit technology in every prison across the state. This positive initiative, one that we have advocated for over many years, means prisoners are able to stay in contact with family and friends.
This year we have also seen some prisons introduce an electronic funds transfer system that allows family and friends to deposit funds into a prisoner's account. This is a significant improvement on the former process where funds could only be deposited through a money order, which are expensive to purchase, or by a person physically attending the prison, which is not always convenient or possible. There are some logistical issues to be resolved, such as the person depositing the money must be an approved visitor and the difficulties faced by foreign nationals and people in remote communities, but solutions are being worked on to address these issues.
While these initiatives are positive examples, we continue to see during our inspections system level opportunities for technological innovation.
Many prison officers at Acacia Prison, Western Australia's only privately-run prison, routinely wear body cameras which is an aid to the safety and security of the prison, but we are yet to see this initiative rolled out in public prisons.
Acacia Prison also has a Custody Management System which is a self-service kiosk that allows prisoners to access a range of personal information, including checking their details, account balances and information about booked visits, activities and appointments.
Similar technology has not been introduced into public prisons. In fact, it was removed from Melaleuca when it transitioned back from private operation to public management. This means prisoners are often reliant on busy unit officers, or must submit manual request forms, to get access to the information they require.
There are opportunities to use scanning technology to prohibit the entry and/or transfer of contraband in prisons. This would have the additional benefit of reducing the number of strip searches required. We understand that there was an initiative sometime last year to purchase this type of technology, but nothing appears to have come from it.
We are also aware of jurisdictions which allow families to email prisoners. The advantages of this is that it greatly reduces the amount of physical mail coming into the prison, allows photographs to be attached, and limits the opportunity for entry of contraband.
During our inspections we have also noted that prisoner access to computers is restricted. Often the computers are old, broken down, or the prisoners simply cannot access them. Other than in structured education classes, prisoners are unable to do anything on-line. Even in education, they are totally reliant on staff for access to educational and research resources, which is inefficient. Further, prisoners cannot get access to portals such as "myGov" prior to release.
In a world where digital literacy is becoming increasingly important, it is incumbent on the Department to ensure prisoners on release can safely navigate their way through an increasingly complex digital world.
OICS Pressures
Budget constraints impacted services
Most public sector agencies are facing difficult resource challenges and we are no different. This year we have tried to maintain the extent of our work coverage within our allocated resources, but this has been difficult.
We continue to meet our statutory inspection mandate and, following the budget repair measures we took last year, we have been able to fully staff the review function. This year we have published two review reports as well as a Revised Code of Inspection Standards for Adult Custodial Services. We have also been able to increase the number of liaison visits which has had a positive impact on our key performance indicators.
Slow progress on OPCAT implementation 
In July 2019 we were nominated as one of two National Preventative Mechanism (NPM) bodies for Western Australia as part of the implementation of the United Nations Optional Protocol to the Convention Against Torture and Other Cruel, Inhuman or Degrading Treatment or Punishment (OPCAT).
The terms of the agreement to ratify OPCAT require that the program commence operation by 20 January 2022.
Despite the looming deadline, by April 2021 only Western Australia, the Northern Territory and the Commonwealth had nominated NPM bodies. The delay in achieving national consensus and agreement has stalled further meaningful steps towards implementing the protocol.
We have continued discussions and engagement with the Commonwealth Ombudsman, the nominated National Coordinating body, and Western Australia's other NPM body, the Western Australian Ombudsman. Discussions have also been held with both the Federal Attorney General's Department and the Western Australian Department of Justice, as the lead agencies responsible for negotiations and preparing implementation legislation.
Without national agreement around implementation, it has not been possible for us to commit resources to developing important processes and structures around how we will undertake this new work. This includes: the development of legislation to expand our jurisdiction to cover inspection of police lockups; the development of appropriate inspection standards and protocols; preparing reporting frameworks and templates; identification of resource needs; and the development of consultation networks with civil society groups that should have input into OPCAT activities.
While we have a well-developed and respected history of undertaking inspections of prisons, detention centres, court custody centres, and prescribed lockups, the new OPCAT jurisdiction involving these services will most likely require us to undertake some changes to our existing methodology, reporting, and networking.
The delay in national agreement around the implementation of OPCAT has meant we have not been able to make much progress this year.
Page last updated: 01 Dec 2021