The Office has a diverse range of key stakeholders with different interests, needs and levels of influence. This includes groups directly influenced by its services, people involved in the WA correctional system, and those with a wider interest in social justice, human rights and corrections.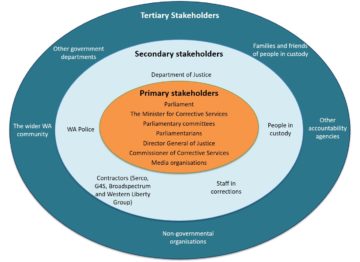 Pre-Inspection Consultation
The inspection of the state's juvenile and adult custodial facilities includes a process whereby community members are invited to provide feedback as well as agencies identified by the facility as 'service providers'. The consultation process explores their experience of the facility, the custodial and non-custodial staff and the persons in the custody.  This input can impact on themes to be explored during the inspection.
Page last updated: 25 Nov 2019