In 2012 there were 110 assaults on staff. The triggers for these events were many and varied, with some incident reports indicating multiple reasons. However, similarities did emerge making it possible to categorise the triggers for these assaulted into 12 themes.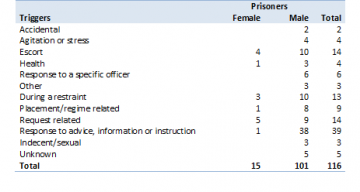 Table: Triggers identified in staff assault incidents in 2012
A third of assaults, 39 cases, were triggered in response to information, advice or instructions provided by staff. A further quarter of incidents, 27 cases, were the result of an escort or occurred when the prisoner was being restrained by staff.
Half of the 22 serious assault incidents which occurred between 2008 and 2012 resulted because the prisoner responded poorly to advice, instruction or information provided by staff. This trigger far outweighed other explanations that staff attributed to the remaining serious assaults, three of which occurred when staff were restraining the prisoner and another four occurred during escorts. There was one incident where the prisoner was agitated immediately prior to the incident and another where the prisoner specifically targeted the officer. There were two occasions where there was no identifiable trigger.
The most common trigger for assaults by men was being provided with advice or instructions. With the exception of one incident, the staff member providing the information, and who was subsequently assaulted, was also male.
Assault incidents involving female prisoners had even less commonality, partially due to the relatively small number of these incidents. Five incidents were triggered by a request being denied or staff informing the prisoner that an outcome was still pending. Three occurred while women were being escorted within the prison and one as part of an external escort. Another three occured while staff were restraining women for behaviour management.